Honda CB500X
Mon Jul 07, 2014 7:42 pm by Admin
Comments: 0


SHAD's new ST38 trio of matching, lightweight, rugged aluminum saddlebags, top cases and model-specific racks is designed exclusively for adventure-bike pilots who want to pack up and leave everyday lives in their city, suburban or rural worlds for expeditions to points unknown--and beyond.All three bags combine the durability, toughness and security that adventure riders demand from their motorcycle luggage when hauling essentials--from running local errands to navigating the globe.
The ST38 series is built from thick, yet light aluminum sheets with reinforced corners and oversized rivets to withstand the harshest riding conditions. Completely waterproof, this matching trio shares air- and water-tight rubber seals that make them impenetrable to dust and moisture. Steel hinges and a tough, high-security, dual-lock system ensure that cargo stays safe and secure inside.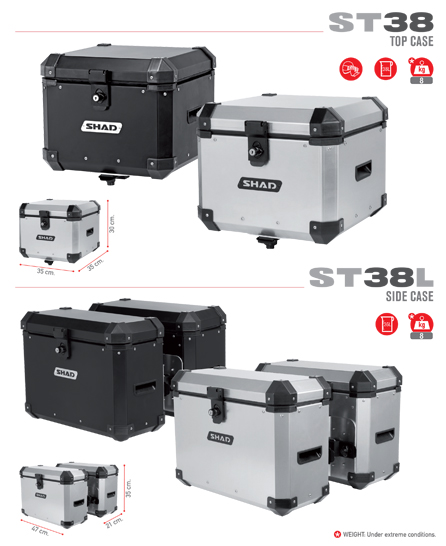 Each case in the ST38 luggage system has 38 liters of packing space, making for a combined total of 114 liters; easily hauling 53 pounds of gear. The cases open from the top to reveal interiors with damping trays that quell vibration and fastening straps that keep their loads from moving around. The top case, which is big enough to hold a full-face helmet, measures 13.7 in. wide x 11.8 in. tall x 13.7 in. deep; each pannier is 18.5 in. wide, 13.7 in. tall and 8.26 in. deep.
This turnkey system is available with mounting systems for BMW, KTM, Suzuki, Triumph and Yamaha adventure bikes. Painted black, these solid steel frames are meticulously engineered to provide the rugged luggage with a shake-free ride. Adding versatility, an adapter allows the complete range of SHAD's 16 top cases to complement the ST38 saddlebags.Backed by a two-year warranty, the ST38s come in black or silver, complete with everything needed to haul a great supply of moto gear. They can be purchased as a three-piece set or saddle-bag-only package to be used with or without a SHAD top case. Each bag in this luggage set will be available in May.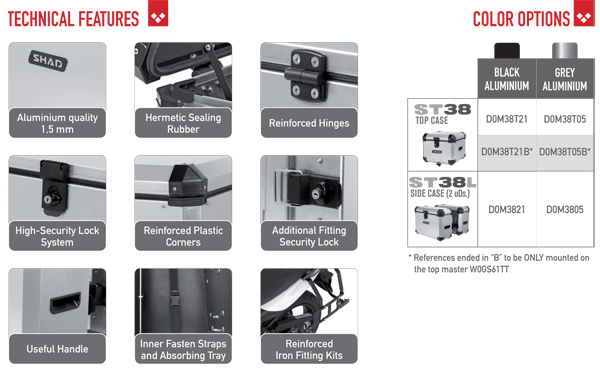 Each bag in this luggage set will be available in May. For more information email us at
info@shadusa.com
or visit our websitewww.shadusa.com
SHAD USA
Product Name: ST38 Aluminum Luggage System
Part Numbers:
Black: DOM38T21
Silver: DOM38T05A
Each bag in this luggage set will be available in May.
For more information email us at
info@shadusa.com
or visit our websitewww.shadusa.com

---
Permissions in this forum:
You
cannot
reply to topics in this forum